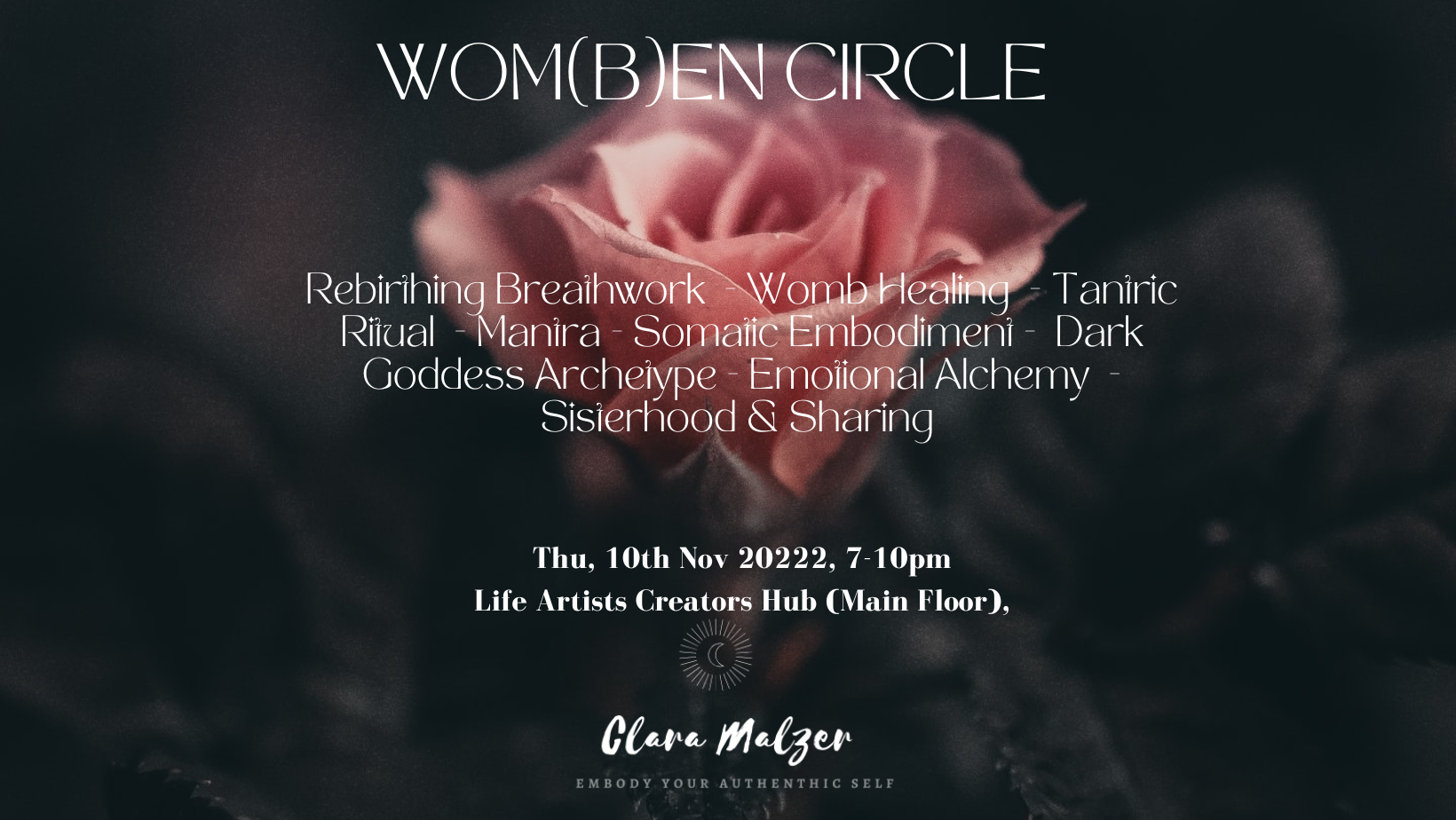 Do you want to embrace all of who you are, your darkness and your light?
Do you seek true depth in your life & relationships and aren't satisfied with only breadcrumbs that scratch the surface?
Do you want to allow a fuller expression of your emotions to embody also deeper pleasure, joy & intimacy?
Tickets: www.eventbrite.com/e/450519013497
Sisters,
the waters of Scorpio are upon us and Samhain is just around the corner. These are times of deep magic, transformation, shadow work, and becoming intimate with death.
In a sacred space, we will explore and embrace our inner Dark Goddess represented through archetypes of Lilith, Kali, Hecate or Persephone.
The Dark Feminine is an important part of our subconscious psyche and being, that wants to be seen and integrated in order to allow a more whole expression of who we are at the core.
This evening, we're being called to descend deep into our shadows + wombs and root into our dark side, embracing emotions of shame, guilt, anger and fear to surrender to our rebirth.
The dark feminine is the one who:
- embraces all of her emotions, also her rage, anger & fear
- brings light to her shadows & honors EVERY aspect of her being
- uses her voice to stand up for what she believes in
- draws and honors her boundaries as an expression of love
- descends into the depths of her womb, the start of all creation and heals herself & her lineage
This is the perfect evening to shed accumulated layers that don't serve you anymore & clear old versions of yourself, closing chapters and releasing past relationships.
The deeper we allow this process to happen, the more we can tap into our true destiny - unfiltered from societal norms and outward expectations.
Only if we surrender into our darkness, can we be reborn to rise into your highest being.
Every women's circle is a possibility to uncover, see, heal and integrate parts of yourself that have been lost over time and step back into embodying your soul-full potential & feminine radiance.
"The doors to the world of the wild are few but precious. If you have a deep scar, that is a door, if you have an old, old story, that is a door. If you love the sky and the water so much you almost cannot bear it, that is a door. If you yearn for a deeper life, a full life, a sane life, that is a door."— Clarissa Pinkola Estes, Women Who Run with the Wolves
What to expect
✨Rebirthing Breathwork
✨Womb Healing Journey
✨Tantric Ritual
✨Mantra & Sound
✨Somatic Embodiment
✨Sisterhood & Sharing
... & much more
What to bring
An Outfit that brings your dark goddess out
Pen & journal
A sacred item for the altar (fruit & flowers are fine too)
Bring all of you, your authentic, raw, wild nature. All ist welcome, your joy, bliss, anger, grief, sadness and anxiety.
About Clara
Clara is a Berlin-based somatic + transpersonal life coach, Clarity Breathwork facilitator and trauma-informed tantra & yoga teacher. She merges the therapeutic, yogic and shamanic path as a gateway to deep healing, liberation from old patterns and returning to a state of wholeness.
Her work offers a portal into the spheres of somatic healing, emotional + nervous system regulation, feminine embodiment, yogic + non-dualistic tantric wisdom and movement medicine.
Her offering is a stewardship to mother earth, to end the patriarchal voice within, return to truth and liberate the feminine expression as a gateway for embodied healing.
Date & Location:
10.11.22, 7-10pm
Life Artists Creators Hub, Milastraße 4 , 10437 Berlin
Main Floor
Get your ticket here: www.eventbrite.com/e/450519013497