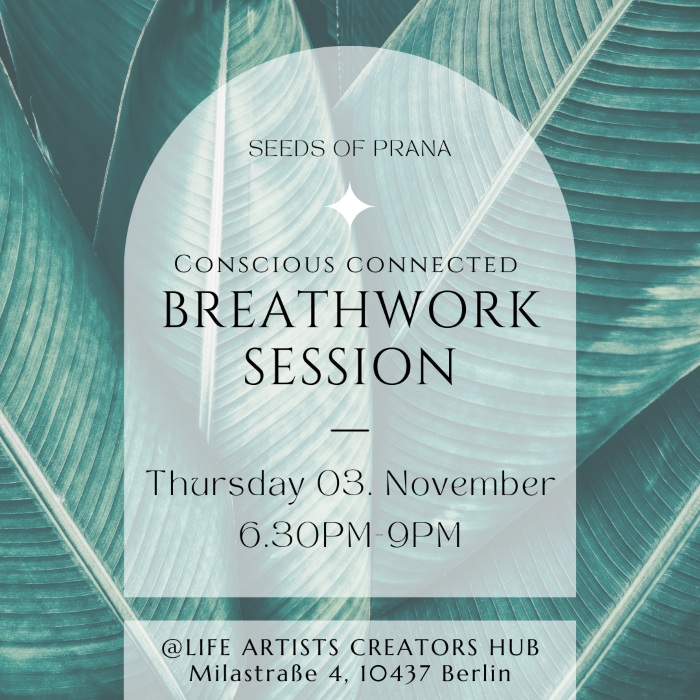 "Breathing, according to me, corresponds to taking charge of one's own life."
— Luce Irigaray

Conscious Connected Breathwork is an incredible healing modality that offers great healing on all levels. It is a very powerful yet safe way to infuse your body with oxygen and prana (life-force energy) which helps you improve your physical, emotional, mental and spiritual well-being.

Join me for the next in-person Breathwork session on November 3rd @ the amazing Life Artists Studio (MAIN FLOOR) in Prenzlauer Berg. For this Sacred Breath Ceromony I will use a unique blend of conscious connected breathwork, intuitive movement, sound & meditation.


➡️ PHYSICAL BENEFITS of Breathwork may include:

✅ More time in deep sleep
✅ Reduction of PTSD and feelings of trauma
✅ Improves lung function
✅ Boots your immune system
✅ Detoxification of the body
✅ Release of stress hormones from your body
✅ It can balance your blood pressure


➡️ EMOTIONAL BENEFITS may include:

✅Fewer feelings of depression and anxiety
✅Better mental focus
✅Decrease in addictive behaviors
✅Allowing emotional scars to heal
✅Better outlook on life
✅Contentment and joy
✅Healing trauma


Let's breathe & heal together!!!


To reserve your spot visit (instagram) or use this from my bio.
Energy exchange is 30€✨️


Much love,

Katharina | Seeds of prana