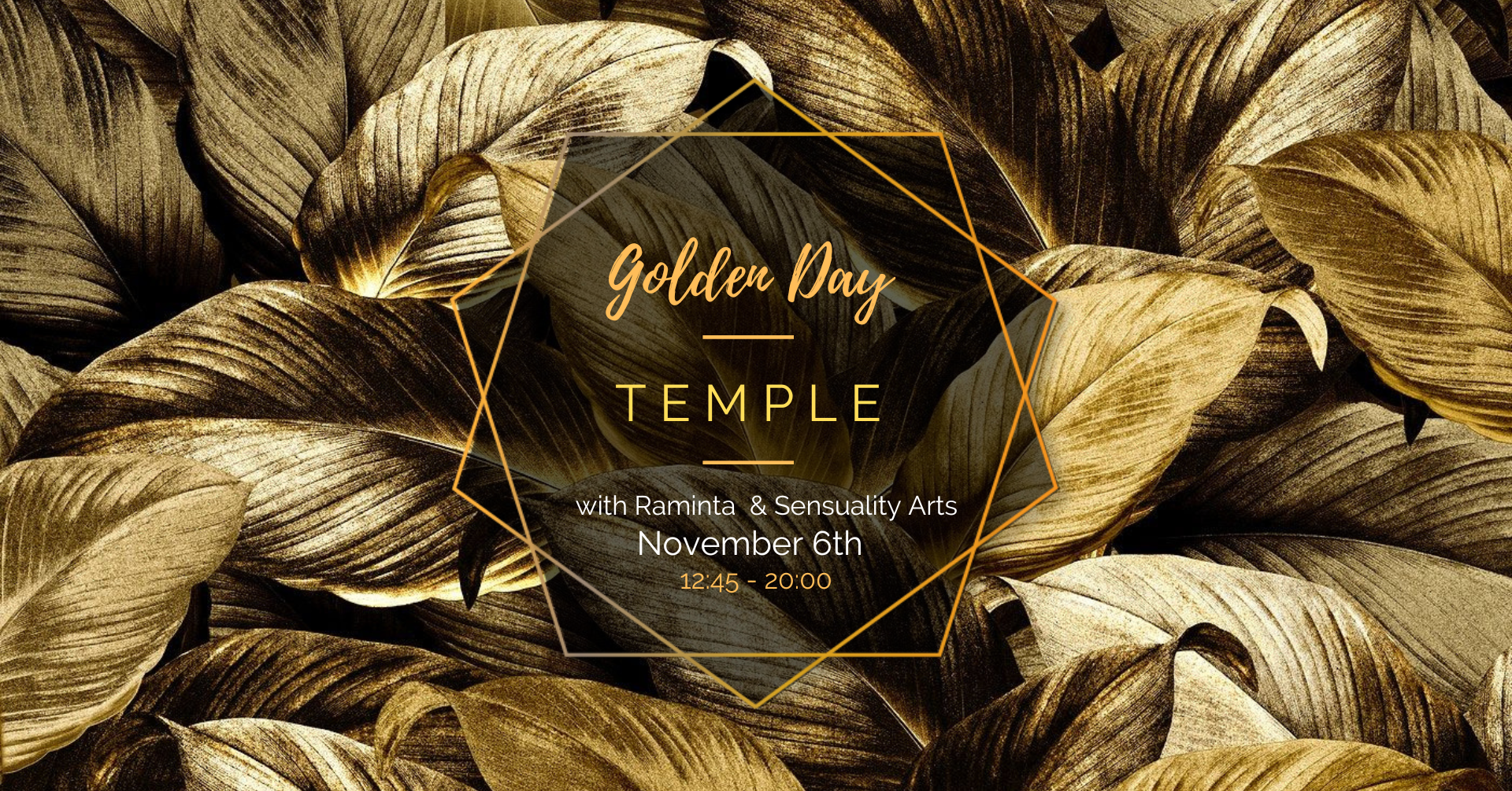 Tickets: https://buytickets.at/ramintawitchcraft/778278

A full sensual, playful and ...⚜️golden Temple day⚜️
Join us for a juicy and sacred sensuality Sunday at the beautiful Pyramid space with Raminta.

This is an explorative whole-day event designed to dive into your sensuality, s•xuality, setting boundaries and to experience intimacy in a group within a safe, conscious and sacred space.
Among others, this event aims at providing you with communication tools for your intimate contexts. Together we will apply the learned tools in the playful free flow. Another important topic we are going to explore is the setting and sharpening of your personal boundaries. You are going to learn how to check in with yourself and to dive into your Do's and Dont's in any present moment and learn how to express them. How does it feel to say YES or NO when you are in contact with yourself, your wishes, fears and boundaries? There will be more time to explore those than in shorter evening Temples. As well there will be some moments to reflect and talk about the learnings and difficulties.

★★★★★ "The Golden Temple day by Raminta and Simon was absolutely amazing. I felt so safe by their grounded, calm energy. They held the space so well. The opening exercises were perfect to feel connected to everyone in the group, creating a feeling of togetherness from the start. From there we explored more through different exercises, creating the ground to play on during free flow. Ceremony and the whole day just left me nourished, grounded, integrated, with a feeling for tribe and connection. I'm so much looking forward to a next edition." - Elke

Experience level: All. (suitable for beginners and advanced)
WHO IS THIS FOR?
This heart-opening day experience is for those who wish to explore relating physically in a safe and consensual group setting. Especially for those who want to dive deeper in understanding how to feel and communicate their boundaries. It is also designed for those who want to open up or further explore their couple's relationship. You can attend if you are single, or in a romantic relationship.
Learn, play and explore your s•xuality in a safe, inspiring and held space.


WHAT WILL WE LEARN/EXPLORE?
⚜️ Explore and learn how to set boundaries
⚜️ Learn how to feel and say No
⚜️ Learn how to feel if it's a Yes
⚜️ Learn how to work with one's own expectations and not to overdo
⚜️ Enter a Sacred sensuality Temple
⚜️ Practice conscious Sensuality Touch and Communication exercises
⚜️ Enjoy good music and Temple Space for sensual connection & massage
⚜️ Authentic dance
⚜️ Ceremonial Aphrodisiac Golden Drink
REQUIREMENTS:
⚜️ Valid COVID quick self-test mandatory for everyone. (we are entering favourite time of cold and flu)
⚜️ No previous experience in a Temple or conscious s•xuality settings is required, but very invited
⚜️ Unless you're fasting or something - come already fed.


WHAT TO BRING:
⚜️ GOLDEN OUTFIT comfortable to be in! (yellow, orange, gold, red are invited) if you don't have anything you feel attractive in these colours - come with what you have, but then bring a golden accessory.
⚜️ The rest will be in your confirmation email. ;)



TIMETABLE:
⚜️ Doors Open: 12:45 | Doors Close: 13:00 (be on time. Until 1 pm you need to be ready. Doors will be closed to provide safe space)
⚜️ Connecting/consenting warm up Part 1
⚜️ Food break (45min) - bring food. ~15:30
⚜️ Connecting/consenting warm up Part 2 + Aphrodisiac Golden Drink
⚜️ Temple space opening (guided part + Tea Ceremony + free flow)
⚜️ Closing Circle
⚜️ End 20:00 (we will close the space all together, no drop in and out unless personally agreed upon it)
⚜️ Optional unofficial dinner together in a restaurant (NOT a part of the program, but it's awesome to do)

??????????? :
❤️ In my spaces, I try my best to select the best compatible group. Which means I do a selection process. Which requires time, energy and sensitivity. There are no random applicants at my events. I do this in order to provide a better intimate space for you. ❤️

You will be requested to fill out a short form. Please fill it out intentionally, truthfully and thoroughly. An application with 4 words of motivation only, will be immediately declined, no questions asked.
IF you have participated in Raminta's Temples before, you do not need to fill the long questions thoroughly. Under the motivation question, please specify in which Temple you've been.


★★★★★ "Minty is a mastermind of creating highly synergistic groups of people. You can tell the amount of care and consideration she puts into this aspect of her temple spaces. As a participant it feels like the perfect constellation of beings, all brought together for the nourishment of the group, all having a very important role in co-creating the energy, flavour, feeling, and transformative quality of the experience."

ENERGY EXCHANGE AND APPLICATION PROCESS:
Ticket link: https://buytickets.at/ramintawitchcraft/778278
✨Curious bird: 88€ (first 5 spots)
✨Golden Bird: 99€
✨Diamond Bird (Supporter): 111€
✨22 carats (Double Ticket): 176€ (save 22€) You don't need to be a couple. No commitments for each other during the event either. ?

✨Special offering. A sisterhood ticket: 77€ (with acode below)
It's a special inspiration price flowing from me and my woman team. For us, it's an annoying fact that women usually earn less money than men and need to pay the same and often more for things and services. In order to support the sisterhood, I want to offer this special ticket for 77€. Use code: 'amazing'. ? If you are a decent earner, please get the normal, supporter or double ticket, to support women of lower income. And show active support for this idea and also my work*.
✨Helper ticket: 25€ (few spots)
If you can't afford the ticket and are willing to be a super supporter in preps, I am looking for such helping hands. Apply for a helper spot - FILL THIS FORM: https://forms.gle/bf5hSvbwTDzErjZh6 We will need you to commit to joining from 17:30 pm until 00:30 am. I will contact you if it's a yes with more details about the support. It will be some help on-site.


★★★★★ "The group dynamic in the Golden Temple was so loving, caring, present and open with such curious, brave and honest souls. Chapeau for the great group selection! ?It was easy for me to feel safe, adventurous and open up as myself. The space was beautifully prepared and held by Raminta and Simon. Such a caring and welcoming atmosphere was created and nourished. With exercises (boundaries, staying in tune with oneself when in contact with others) that added to one another and really build up to the amazing free flow at the end. I had a beautiful afterglow for several days, which speaks for itself! ??Thanks so much to Raminta and Simon for creating and holding such a unique space! ❤️" - Immanuel



About the facilitator: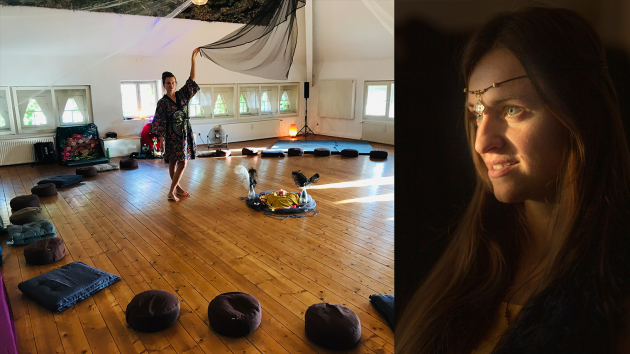 Raminta is a humble and wild 'amazon' from the Baltics. Pantarei practitioner and extraordinary events' architect.
She brings ceremony and ritual into her facilitation. In her events, people feel safe, non-judged and welcomed with their authentic juicy selves. She brings 10 years of experience in organizing various events. From personal development, ecstatic dance and conscious events, temples up to psytrance/techno parties and business-oriented events.
✨She is the initiator of "Saturday lockdown dances" (aka FlowMotion Dance). One of two crazy people making people dance outdoors during the hardest covid lockdown, which became a movement and now you have all of those Tempelhofer feld dances now.? She has accomplished a 100hours Tantra massage course and organized and facilitated Temple nights and Temple weekends and Medicine retreats.
✨At the moment she is organizing dance and Temple events. Giving Somatic Coaching "Pantarei" sessions. As well as creates graphic and stage design + is a certified social media manager.
Event updates on her Telegram channel: https://t.me/joinchat/xFtAfN__xdhYThi
Events/Pantarei newsletter: https://tinyurl.com/4cjwzpm4
Somatic Coaching offering: https://ramintab.wixsite.com/design/somatic-coaching
___
TESTIMONY:
★★★★★ "We have been looking for ways to expand and open up our relationship as a couple, and coming to the Temple allowed us to deepen our trust and communication while being confronted with ideas that used to make us uncomfortable, like allowing your partner to connect and be sensual with others. Coming to the temple weekend made us so much stronger and bonded us in ways we couldn't have expected. It's a beautiful start of a long journey."

★★★★★ "Raminta's authenticity, sensitivity and assertiveness makes her a great facilitator. She created a wonderful Temple weekend where I got to connect with myself and others in a safe space, free of judgment and pressure of any kind. The sacred space of intimate exploration was a beautiful playground for self-discovery of boundaries and desires. Raminta inspires me with her integrity and growth and I've confidence in the workshops she facilitates." -Eva

★★★★★ "Being in Raminta's events is always a great experience. I like her open-minded, funny, structured and clear ways of facilitating. When she talks, she is able to express things in a nutshell and can give names to unspoken feelings or states. I always feel very safe and grounded in her workshops and events."
_____________


✨✨✨✨ OTHER EVENTS OF RAMINTA: ✨✨✨✨

• Oct 20th Sensuality Arts & Cacao Temple
• Nov 6th Golden Day Temple
• Nov 26+27 In city retreat (for couples)
• Dec 10th. Advanced Temple night

All the events you will find here: https://www.tickettailor.com/events/ramintawitchcraft/
Q & A
What if I don't connect to others or suddenly upon arrival "don't feel in a mood"?
?? This is a space for allowing yourself to be where you are at. Not only for playing but also for resting & recharging, so no worries if you for some reason suddenly would not feel in a mood to explore (it happens to me 50% of the time when I go to an S+ space) - in any case, we will take good care of you. I will invite you to allow yourself to just Be in the space. (There is even a dedicated introverted time-space there). And put your expectations to a side for a minute. There is great beauty if you succeed to stop pressuring yourself and even if the energy wouldn't change for you at some point (which it usually does) it's great to see you there, sharing the space with us, relaxing and being with yourself. It's a luxury today! ???

* What about more inclusion with the 'sisterhood ticket' ?
I know this does not include other genders identity groups, but my offer today is specified and inspired by my own experience as a cis woman and I want to stand for that specifically. Dear gentlemen, we wish for your understanding also and engagement in these topics. Thank you. You're awesome. ❤️??‍♂️
How do I know my spot is reserved?
You will receive a ticket purchase confirmation upon purchase. Upon review of your registration form, we will evaluate if your application is compatible with the group and our values. In some cases, we may request additional information or choose to decline your participation.
We review all forms within 72 hours (on working days) after signing up, and if for any reason we decide to refuse your attendance, you will
receive a, 100% refund from the Ticket Tailor. If we do not request additional information about your application or inform you that it was denied that means your application is accepted and a few days before the event you will receive a preparation email.
Can I cancel my ticket?
Until 7 days before the event: full refund, minus an administration & platform fee of 7€ ·
No refunds in the week leading up to the event.
If one of you cannot come from the Pair ticket and it means another one cannot come, the same cancellation policy applies.
There will be NO participant replacements allowed from this point since we cannot view the participant's application form.
Why do we need to fill out a form? How do you decide who attends?
We wish to offer our guests the best potential for safety and conscious exploration. We are aiming to gather the most coherent group, although it is very difficult for us if anyone has to be declined. It is happening very very rarely and if so - it is not personal. That probably means that the applicant's answers and perhaps expectations were not matching the expectations of the majority of the group or the facilitator's values. Any decisions we make about who to invite will be based on these principles. And yes we are aware, that words do not fully tell about who you are and we are trying our best to evaluate the situation from your given answers.
Why are there fewer spaces for (cis) men?
The spaces for men are not necessarily fewer. Past experience had taught us that these spaces are the ones which tend to fill up quicker than the ones for women, nonbinary and trans folks. It is also our experience that an imbalance towards a majority of men in a sensual space can sometimes create discomfort among participants. We will be making men's tickets available gradually as the spaces fill up. We understand that the uncertainty about a ticket being available may create discomfort, we have taken that into account and feel this is necessary. We hope for your understanding.

*How is it s3x positive if we have to keep our underwear on and no penetration is allowed?
We see s3x positivity is a way that's broader than "p3netration". A s3x positive space means that you are invited, welcomed and encouraged to express your desires and express yourself as a s3xual being.
We invite the guests at this event to also tap into the nature of their s3xual being without limiting their understanding of s3xuality as the same as genital penetration, but rather as a broad spectrum of experiences and expressions.
There is no genital nudity allowed in this venue. So we will respect the house. All other nudeness is welcome.

Tickets: https://buytickets.at/ramintawitchcraft/778278
See you on the other side. ??‍♀️?
Raminta