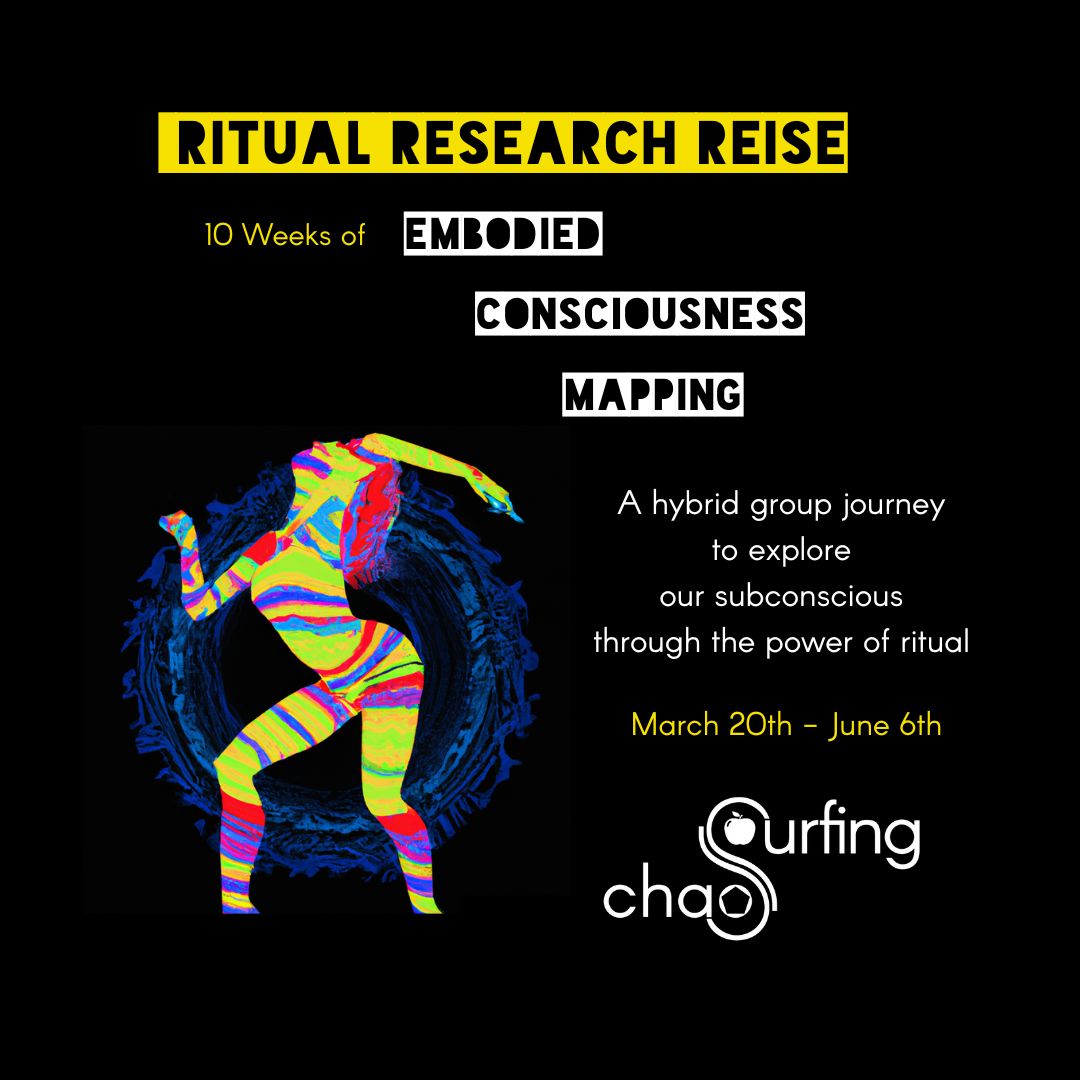 Welcome, fellow explorers of the cosmic unknown!

THE JOURNEY

Get ready to embark on a wild and magical ride as we dive deep into the depths of our consciousness and nervous system programming!
Over the course of 10 weeks, we'll journey together to explore the intricate workings of our nervous system and uncover the 8 dimensions of consciousness, as mapped out by the legendary fringe thinkers Dr. Timothy Leary and Robert Anton Wilson.
Join our eclectic group of explorers from all over the world as we engage in a hybrid online and offline experience that's accessible in both English and German.
Through playful experiments, ritual games, and wacky adventures, we'll delve into the subconscious and discover the power of ParaTheater – an embodied ritual technology developed by the one and only Antero Alli.
And of course, no magical journey would be complete without exploring the principles and techniques of Chaos Magick to catalyze transformation and growth.

Are you ready to join us?

THE CREW
This Journey is for the daring and the curious, the ones who crave to dive deep into the mysteries of consciousness.
First up, I'm searching for 5 brave and daring Magickians who are ready for a full-on transformational journey. We'll be meta-programming 1:1 to craft a leveled-up version of your magickal self.
Next, I'm looking for 14 curious Masters who are ready to geek out on this map and take their experiments to the next level. We'll be diving deep and exchanging notes on our mind-bending results.
Thirdly, I want 8 courageous Ritual Researchers who are down to explore their subconscious and get freaky with some ParaTheater and chaos magick rituals in Berlin. We'll be getting intimate and experimenting like mad scientists.
And finally, I invite 23 fearless Monks who are ready to dip their toes into the chaos magick waters and unlock their inner magickian. We'll be using the 8 Circuits of Consciousness Model to explore our nervous systems and create some epic brain change.

Are you ready to join this epic crew?


TIME COORDINATES
Put on your wizard hats and set your clocks!
We'll kick off our 10-weeks adventure on March 20th and wrap up on June 6th.
The Ritual Researchers will gather in person each Wednesday from 7-10 PM CET at the Life Artists Creators Hub in Berlin.
Monastic Master MindAnd our group will meet online on Sunday evenings from 7-9:30 PM CET via Zoom.
Don't forget to join us for our extra Zoom Q&A and sharing Circles on Tuesday evenings. See you there!
PRICING
Magickian: 2355 Euro (Includes all access and 8x 90min 1:1 Coaching Sessions)
Ritual Researchers: 555
Master:420
Monks. 230

Want to jump on board of this magickal adventure?

Find out more here: https://chaosurfing.rocks/coaching/embodied-consciousness-mapping/