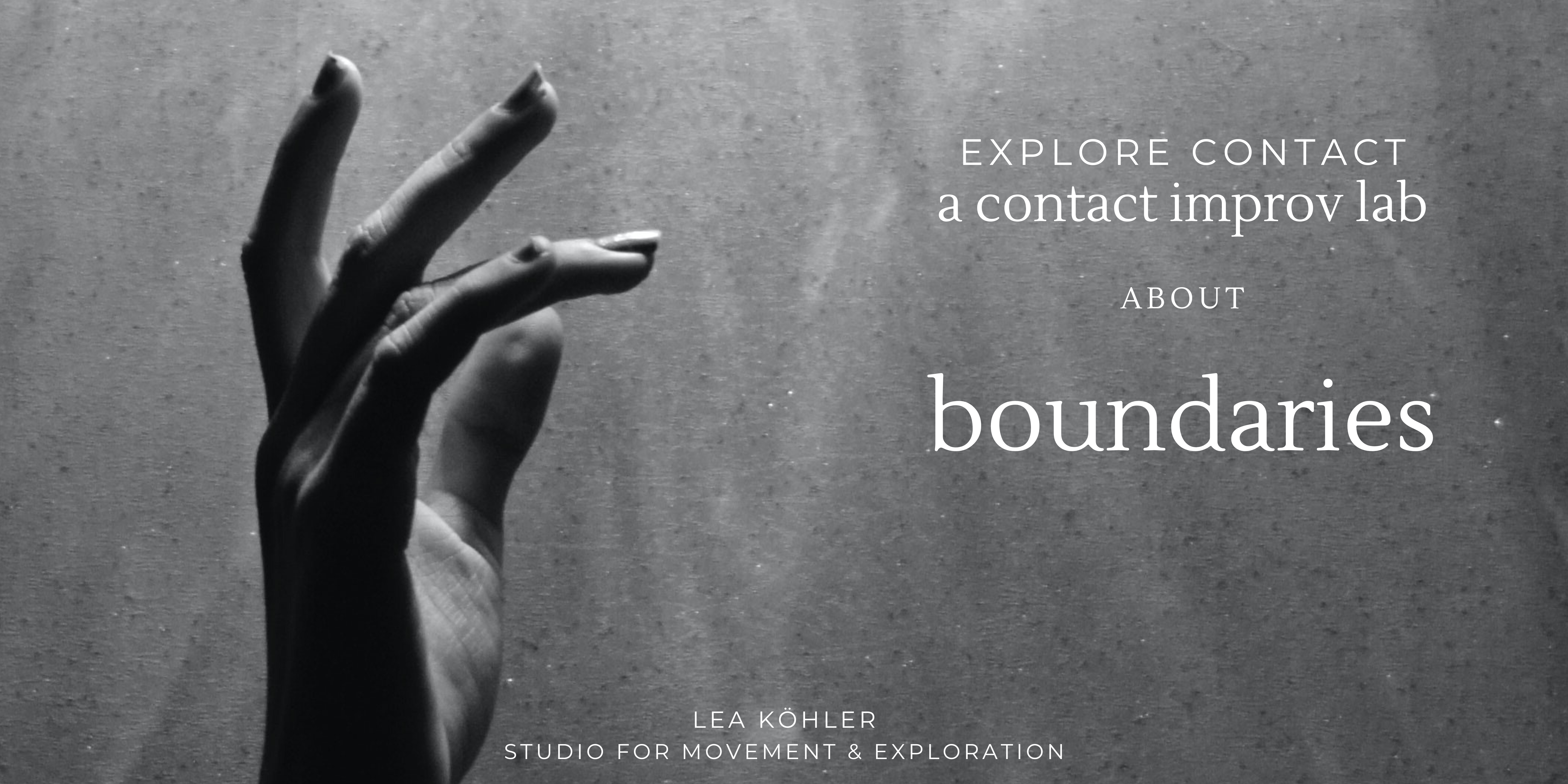 You are invited to a contact improv lab.
A space to explore yourself and different topics through movement.
There will be 4 events. Every event has a different topic. Every event will have the same structure.
You can participate in the whole series or just participate at some events. This is for the first event about boundaries.
The other registration forms & more infos about these events you will find here:
https://linktr.ee/leakoehler
. The series will happen again in January. It is possible to book the whole series and to exchange dates to January.
02.11. about boundaries
09.11. about trust
16.11. about shapes
23.11. about senses
The workshop is split in 3 parts
Workshop: guided by Lea
In this workshop we will explore our relationship to boundaries in a contact improv setting.
Can you feel in your body when reaching a limit? Which reaction does your body have? Is there a change in your body posture?
We will not only look at our own experience but also observe how ready others feel for an interaction.
In a nonverbal space sensitivity like this is necessary in order to not overstep others boundaries.
In a playful way we're exploring how to observe your own and others' boundaries and find solutions on how to communicate them in a nonverbal setting. The workshop will be a combination of self experiential and interactive exercises.
short break
Contact Jam: free, unguided CI jam with music. A space to move. You decide if you want to dance alone, in contact with others, or to just be in the space. This suits also as a space for you to explore the topic from the first part and its connection to CI.
short break
Sharing: Sharing space to talk about experiences regarding the topic during the jam or in past CI spaces. Can be a discussion, further elaboration of the topic or just an emotional sharing round. The space will be held by Lea.
When?
02.11.22 6pm - 9pm
The door will close when the workshop starts.
Where?
Life artists creators hub - Berlin Prenzlauer Berg
Who?
This event is for people with previous experience in contact impro or with movement experience. There will be no class teaching CI methods. You don't need to be an expert, but should have danced on a contact jam / class before.
There will be a maximum of 20 people in the space.
What about covid?
It's great if you take a test before for yourself.
How do I get my ticket ?
Please fill out this form to save your spot. I will send you an email in the following days.
Ticket low income 22 €
Ticket normal 27 €
Whole series 80€ (participating at the events in November or January)
There is also 1 helper spot. If you can't afford the event please get in touch.
The tickets are not refundable or transferable. In case you want to give your ticket to someone else, please send me a message.
***About the facilitator ***
Lea Köhler
Lea is a space holder, coach and performance artist based in Berlin. She's been dancing her whole life and is focusing on Jazz dance, contact improvisation and flow arts. Her main topics to work with are self compassion, the body and boundaries. She trained in dance pedagogy, life coaching, sacred s.xuality and trauma sensitive spaceholding. Currently she's in her second year studying to become a dance therapist with the DGT (Deutsche Gesellschaft für Tanztherapie). She likes to play and explore and to create a safer space for personal growth.