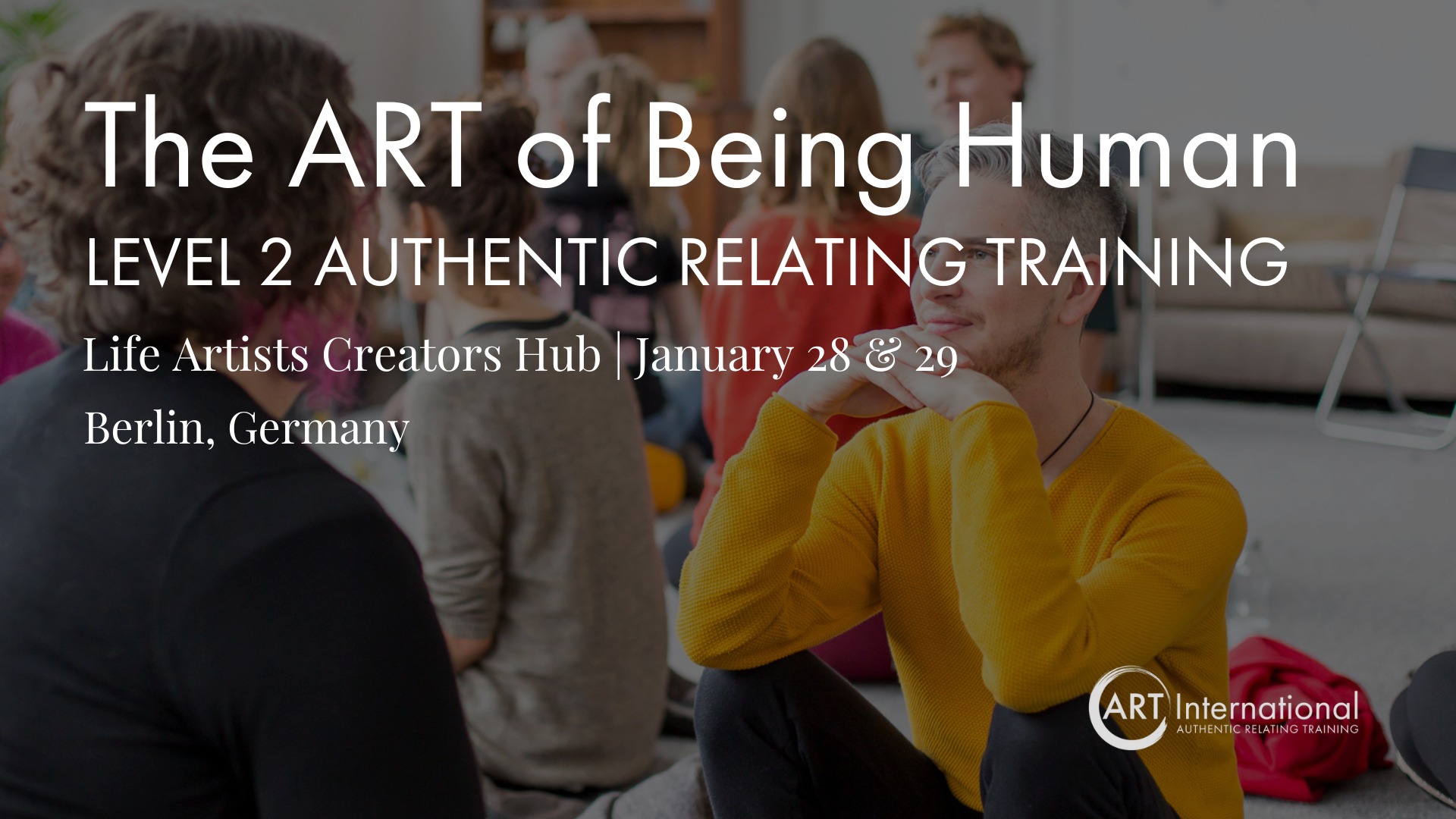 Are you ready to be the Leadership you wish to see in the world?
Are you willing to leverage your own transformation for the awakening of others through the shaping of culture?
WELCOME TO THE ART OF BEING HUMAN: LEVEL 2 ~
Activate and express your innate capacities for leadership by learning how to be an agent of transformation in others.
DATES: January 28 & 29, 2023
SCHEDULE
Saturday 10am - 8pm
Sunday 10am - 8pm
LOCATION: Berlin, Germany
COST: $395 USD
COURSE DETAILS
To be a whole and integrated human being means knowing and welcoming yourself fully, including the parts of yourself that you turn away from, suppress, and disown.
The ART Level 2 Training will guide you to explore your own shadows and those of others in a tightly held conscious, relational space. You will be witnessed and welcomed in your journey, and have access to vast new realms of authentic connection in the intimate and vulnerable territory we explore together.
The Level 2 Advanced Course includes skills and practices in these areas:
- Nervous system training - how to be with any charge and stay empowered and composed
- Group attunement - how to tune into a group field and notice and name what's present
- Integrity as a practice - how to establish, maintain, and restore a personal standard of integrity
- Body language - how to read, perceive and interpret all forms of body language
- Multiple perspectives - how to hold multiple perspectives and use them as a bridge to connection
- Own your experience - going deeper into owning your experience than at the Level 1
- Making the implicit explicit in culture and society
- Dignity and humility as an embodied experience and reference point
- Public speaking - how to be known and revealed in speaking to groups
- Other high-level advanced authentic relating tools and skills offered throughout the course
You must have already graduated from ART Level 1 to be eligible for this course, since we will be building upon many of the insights and teachings from that course.
ABOUT THE FACILITATORS
Our expert facilitators are highly qualified in this art and bring years of experience teaching authentic relating. Our curriculum designers have found and created the most innovative and effective relational practices available to deliver a life-changing experience that deepens with practice.
MARGO FISHER
Course Leader
It brings Margo a lot of joy to connect with awareness and intuition, embodying what she's learnt about communication and intimacy. She was a teacher and educational researcher for many years and continues to enjoy finding clear ways to share the revelation of authentic relating to those ready for it. Margo also spends time as a medicine guide and researcher into psychedelics for healing. She is a partner, mother to a teen daughter, friend and nature lover, living a slow and alive life near the forest just outside of London.
PAULINE DREWFS
Assistant Course Leader
Pauline's work has always been driven by one seemingly simple question: Why is that so? After a career as a content strategist in a large tech corporation and years of trying to wrap her head around the Whys of regulations and processes in the German public sector, she became interested in the more nuanced and subtle Whys underneath the patterns of human interaction. That curiosity combined with a fascination for the mechanisms of conflict has led her to become a mediator and Authentic Relating facilitator.
Pauline is a mother to a teen daughter, a lover of nature, dance and sourdough bread and at home in Berlin, Germany.